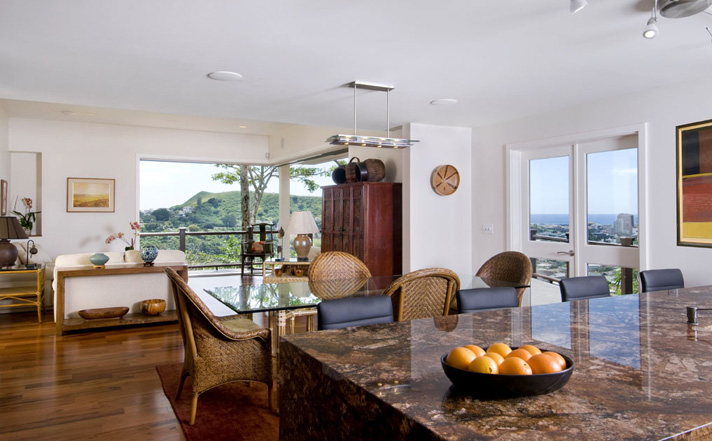 Major Renovation Steep Lot
Single Family Home Major Renovation
Project Description:
Hale Pacific Heights Place is a major renovation and addition to an existing three-story home designed and built circa 1975. The existing home did not suit the lifestyle of the new owners. The existing home was too small and needed to be modernized and refreshed with open spaces verses the current chopped up compartmentalized spaces.
This project is a wonderful role model and clearly shows what a major renovation and addition can accomplish. It is important from an environmental perspective to try and save more buildings through renovation, modernization and additions. By showing examples of what can be done we hope to educate people that wonderful homes can be created starting with existing structures.
Clients Vision / Project Challenges:
The project aspires to connect intimately with the site and all of its positive unique attributes and reflect the spirit of its inhabitants. The former will be achieved by an objective response to the conditions of the site– climate, site geology, sun, wind, temperature, terrain, existing structure and orientation. The latter was achieved through multiple client interviews and working closely with the client throughout the process

Project Role:
Architect, sustainability consultant

Sustainable Features:
• By its very nature as a renovation the project achieved major environmental and sustainable goals. Saving and re-using the embodied energy of the existing shell saved countless resources
• Minimal site work was required, thus treading lightly on the site. In the current era of bulldozing sites, it is refreshing to not further scar the landscape
• One of the major goals was the focus on natural ventilation and natural daylighting. This serves multiple functions including reduction of the use of artificial lights and mechanical ventilation, resulting in a direct savings on utility costs. In addition, studies have shown that a direct connection to daylighting and views improves the health and well-being of occupants
• Onsite renewable energy system – photovoltaics. Net Zero energy
• Material conservation – decision to renovate, demolished materials diverted from landfill
• Demolition with a new design and construction which would have resulted in a loss of the embodied energy of the existing structure, loss of existing positioning on the site, resulted in unnecessary creation of construction waste and a lot of site work to relocate the house to the location that would be required by current code due to height limits. A three-story house and volume would have been lost as well as the spectacular views and connection to nature that the existing volume and siting allows.